Meet the Readers of the Free Reading Network

ChannelStar
Certified Tarot Master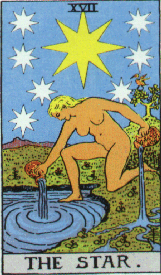 Hello ~ Thank you for opening my bio and I hope this information will be helpful:
Through ongoing searching, metaphysical work and studies for various useful certifications to add to my college education, I encountered the Tarot which gave me a framework for examining "coincidences" occurring around me in a purely synchronistic way on a consistent basis. I currently enjoy working with the Rohrig-Tarot, Spiral Tarot, Morgan-Greer Tarot and Robin Wood Tarot. Since I received my first deck (Waite Tarot for Beginners), I have expanded my study of Tarot to include dozens of various decks as well as gaining insights to the possibilities and options of their messages. For more than 40 years I have been deeply involved in the metaphysical and have received various practitioner certifications, but Tarot has allowed me the best vehicle to express and explore the cosmic power and possibilities available to us.
The responsibility that comes with doing readings ethically is always foremost in my mind and I clearly realize that the Tarot provides a powerful'channel' or guidance system for interpreting and traveling our daily path – giving hope and encouragement in taking ownership for the choices we make that shape our future.
Working with FTN/FRN in doing volunteer readings and mentoring is a perfect follow up to my last "job" as an executive corporate recruiter in the San
Francisco Bay area. For 25 years I enjoyed working with many talented computer software/hardware design support techs, engineers, architects and
executives through personal contact, telephone and email. I appreciated having the opportunity to meet so many different people from vastly divergent cultures world wide. Now I am able to continue, while leaving the corporate world behind, and working with the inspiring Tarot - and you.
Blessings and many sunlit days of joy and inspiration ~
"ChannelStar" – Kristin Lee-Gray, C.P.T.R. (krisvb@cox.net)
(Certification: Eileen Croutch, Exec. Dir. CTN, Canadian Tarot Network/www.tarotcanada.com)

Illustrations from the Rider-Waite Tarot Deck®, known also as the Rider Tarot and the Waite Tarot, reproduced by permission of U.S. Games Systems, Inc., Stamford, CT 06902 USA. Copyright ©1971 by U.S. Games Systems, Inc. Further reproduction prohibited. The Rider-Waite Tarot Deck® is a registered trademark of U.S. Games Systems, Inc.
---
Meet the Readers
Web page designed by Tracy Hite.