Meet the Readers of the Free Reading Network

Starsong
Certified Tarot Master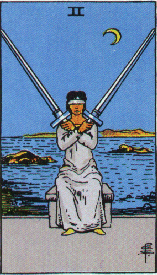 Are you stuck between a rock and a hard place? Don't know which way to turn? The Tarot can help!
I use a variety of decks to gain a fresh perspective on your problems, to point out ideas or issues you might not have considered otherwise. I can't predict the future, but I may be able to help you move your life forward.
I began my own Tarot journey while recovering from my first son's birth on New Year's Eve, 1996. I tried to study on my own for nearly a year, picking up what I could from books and websites, but I had a lot of trouble piecing everything together. Then I joined the American Tarot Association, and with their friendship and guidance, I've become a Certified Tarot Master.
Aside from Tarot and my family, I work third shift as a Systems Administrator and Night Auditor for a major hotel. I got my Bachelor's in Computer Science back in 1989, when Windows were still just panes of glass. I'm webmaster for the Comparative Tarot website and for the ATA's monthly ezine, Tarot Reflections. Offline I enjoy knitting, crochet, and cross-stitch.
I'm honored to serve as Manager for both the Free Reading Network and the Free Tarot Network. If you have any ideas or suggestions to improve our sites or our service, please contact me at Admin@freereading.us.
I hope you learn as much from your Tarot reading as I will!
Illustrations from the Rider-Waite Tarot Deck®, known also as the Rider Tarot and the Waite Tarot, reproduced by permission of U.S. Games Systems, Inc., Stamford, CT 06902 USA. Copyright ©1971 by U.S. Games Systems, Inc. Further reproduction prohibited. The Rider-Waite Tarot Deck® is a registered trademark of U.S. Games Systems, Inc.
---
Meet the Readers
Web page designed by Tracy Hite.